ww.citylab.com/design  Tanvi Misra  5 Nov 2014
The Kowloon Walled City in Hong Kong looks like a beehive, with cramped quarters stacked haphazardly on top of one another. It grew up organically, clearly constructed without the input of a single architect. Before its demolition in 1993, the city buzzed with life. It harbored drug kingpins, prostitutes, and gangsters, along with fish ball makers, mailmen, and hawkers.
But apart from these residents, only a few others had been privy to life in "the brothel of the East." Cameraman Hamdani Milas was one of them. He helped make a 1989 documentary about the city and spoke to the Wall Street Journalfor this brilliant interactive feature tracing how a diplomatic glitch in the 1800s turned a former military fort into a "donut hole of Chinese sovereignty" in Hong Kong, then a British colony. Being tossed between the Chinese and the British forced the city into legal limbo.
"It really was like a mad art director's vision of a dystopian future," he says. "It was all botched together and it was this kind of crazy, chaotic architecture."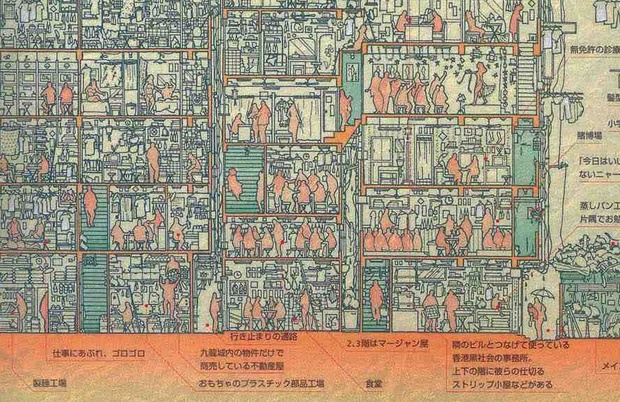 Back in the day, around 33,000 people lived in the webbed high-rises, making the city one of the most densely populated places in the world. To outsiders, it was a hotbed of vice and violence that most refused to enter—even after the walls came down in the mid 20th century.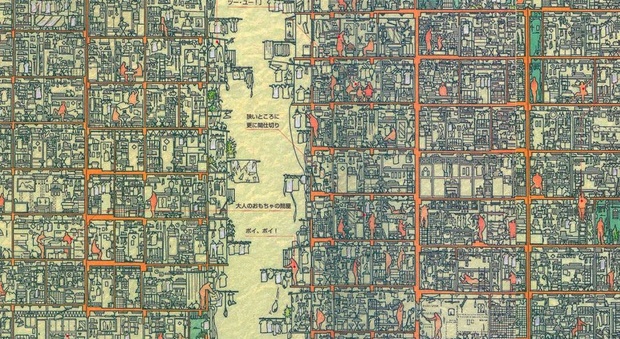 These hyper-detailed maps illustrate the true density of life in the city. They come from a rare book released in 1997, shortly after the colonial government decided to demolish the city and relocate the residents to public housing complexes. They were produced by Japanese researchers led by anthropologist Kani Hioraki, writes artist Johnny Strategy on his design blog.
"I think what surprised me most was the sheer level of detail that was captured and then reproduced," Strategy writes in an email. "The more you study the map the more you realize that life was actually pretty normal—people did laundry, practiced gardening, fixed leaks, and generally made the best of what life offered."
In 1995, a park commemorating the city opened up where it used to stand. But the Walled City still haunts the imagination of creative types, inspiring movies,arcades, and 3-D models.